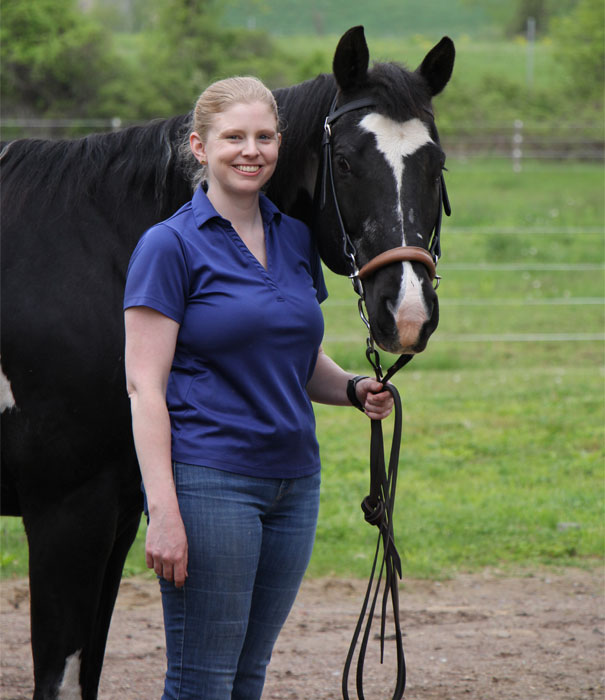 Meet Dr. Christine Whalin
Dr. Christine Whalin grew up outside of Denver, Colorado and always wanted to be a veterinarian. Her passion for horses started in second grade, when she started taking riding lessons with her best friend. She was hooked. Dr. Whalin grew up riding Arabian horses, pleasure horses, and basically any horse anyone would let her ride. Dr Whalin loves jumping and cross country and competed in three-day eventing in high school and college.
Dr. Whalin graduated from Miami University in Oxford, Ohio in 2010 with a Bachelor of Arts in Zoology and Environmental Science. She attended Colorado State University College of Veterinary Medicine and Biomedical Sciences in Fort Collins, Colorado and graduated with her Doctorate of Veterinary Medicine in 2015.
Dr. Whalin then went to work in Utah as a dairy veterinarian, but sorely missed working with horses. She decided to do an equine internship, and was accepted to an internship position with New England Equine Practice in Patterson, New York. Dr. Whalin completed her internship year, and then continued on for another two years while completing a residency in equine practice with the American Board of Veterinary Practitioners (ABVP). After 4 years of training, writing papers, continuing education and studying, Dr. Whalin became a Diplomate of ABVP in Equine Practice in 2020.
Dr. Whalin joined Advanced Equine of the Hudson Valley in 2019, after completing her residency. Her particular interests include lameness, wellness, surgery, internal medicine and dentistry. She loves being an equine veterinarian and working with horses and their people. She enjoys finding new ways to tackle old problems and incorporating new research and treatments into case management.
Dr. Whalin has two cats, Wash and Zoe, and she enjoys cooking-particularly baking, hiking, world travel, road biking, reading, horseback riding and has cultivated an interest in wine and whiskey.