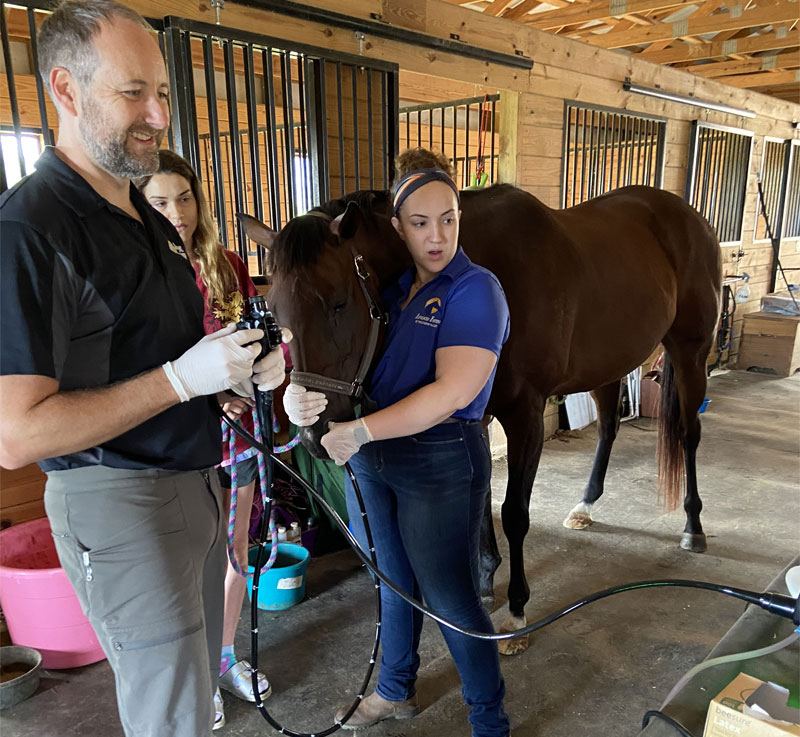 Our equine veterinarians have access to and training in the most advanced tools and diagnostic technology available in equine medicine, including our video endoscope which is used for comprehensive diagnostic evaluations.
Gastroscopy is a form of endoscopy used to evaluate a horse's digestive tract, including the esophagus, stomach, stomach lining, and proximal duodenum.
Gastroscopy can be used to diagnose and assess conditions such as:
We primarily use gastroscopy to diagnose and evaluate gastric ulcers which are a common occurrence in horses, with prevalence in adult horses between 60-90%. Gastric ulcers can impact weight, performance, behavior, and overall wellness.
Additionally, we can obtain tissue samples from a horse's gastrointestinal tract through the endoscope for biopsies, histopathologic evaluation, and diagnosis.
During a bronchoscopy, we use our endoscope to view and evaluate the insides of a horse's respiratory system. This allows us to evaluate a variety of respiratory conditions such as coughs, asthma, respiratory obstruction, and allergies.
An equine cystoscopy is an endoscopic evaluation of a horse's urinary tract and bladder, and it is used to diagnose and evaluate a variety of conditions that affect these parts of a horse's anatomy.
With upper airway endoscopy, our veterinarians can view and evaluate the internal structures and function of a horse's upper respiratory tract.
An upper airway endoscopy can either be performed on a standing horse or a horse in motion. We use dynamic endoscopy to evaluate horses during exercise, and it can be extremely helpful in diagnosing unusual respiratory noises.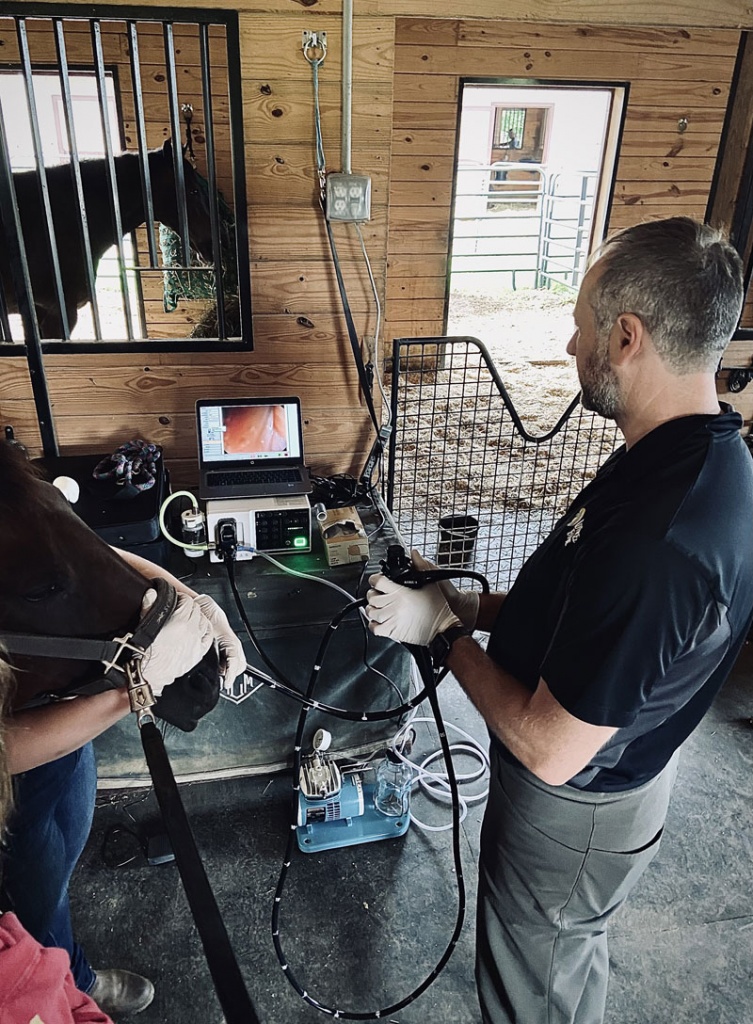 On-Farm Mobile Equine Diagnostics in Fishkill, NY
With Advanced Equine of the Hudson Valley, there is no need to transport an ailing horse to and from an animal hospital for diagnostic evaluation..
All of our equine endoscopy services are completely mobile and can conveniently be performed on-farm or wherever your horse is located. In addition, we are fully equipped to provide horses with on-site medical care whenever possible. If a horse requires more advanced care or close patient monitoring, we can discuss transport to our equine hospital site.
To learn more about all the services available with Advanced Equine of the Hudson Valley, we welcome you to schedule an appointment for your horse or contact us today.